Vernon Electricians
Licensed & Insured Vernon Electricians
We are your local electricians in Vernon. Call us first when you need an electrical service contractor in Vernon.
About Us
Contact Us
Vernon Electrician Services
Complete Electrical Renovations
A whole house renovation starts with a great plan, layout and drawings. We strive to proceed through our projects on time, and on budget.
Building a shop? Building a suite? Upgrade your service and increase your capacity to 240 volt – 200 amps.
Panel Upgrades
Upgrade your electrical panel and enjoy an increase number of circuits. This will allow room for an addition appliance, outdoor lighting and other low power circuits.
Suites
Quantum Power Inc can provide a complete electrical suite install, temporary rental unit, or upgrade your existing suite.
Shops
Need a service for your shop? A 240Volt-60Amp service can independently power a 40 amp welder, or a 7.5 HP compressor, with plenty of room for lighting and plugs.
Kitchen & Bathroom Renovations
Our electricians are valuable assets to your renovation team. We have completed hundreds of high quality kitchen and bathroom renovations.
LED Lighting Upgrades
Brighton up your home and save money too! LED lighting is now more affordable than ever.
Light Fixture Installation
Updating light fixtures will give your home the look you want. Adding recessed lights can have a dramatic effect, especially if they're LED.
Ceiling Fans
We take pride in ensuring ceiling fans are installed correctly. Not only ensuring electrically safe, we will make sure it is mechanically safe too.

About Us & Why We are

The Best Vernon Electricians For the Job
Quantum Power Inc. Who are we? We are local reliable electrical contractors in Vernon BC. We specialize in residential & commercial electrical services in Vernon, Kelowna & the Okanagan. We offer a wide variety of electrical services such as service calls, renovations and new construction in both residential and commercial projects. If you need an expert electrician in Vernon BC, check us out. Call 250-307-4003
Our electrical contracting experience and extensive trade knowledge creates a high standard of quality for our Vernon electricians. On all of our electrical projects, small or large, we implement quality control strategies creating efficient progress and attention to detail. This applies to service calls, one day projects and large scale renovations. Our projects are subject to a quality control inspection once completed. This includes a walk through with the home or business owner. Our goal is to provide the customer with a high quality electrical installation we are both satisfied with. Our dedication has made Quantum Power a leading source for high quality electricians in Vernon BC.
Backing up Quantum Power's onsite excellence is our commitment to industry standards.
Candidates for employment are thoroughly screened.
Electricians and apprentices must provide proof of license.
Field Safety Representative requires education upgrades every three years.
Worksafe BC – Active and in good standing
Technical Safety BC – Active and in good standing
Liability Insurance
$10,000 Surety Bond
Quantum Power has you covered on and off site! If you need a local reliable electrician, Vernon BC is home to Quantum Power Inc.
Call us first when you need a Vernon electrician.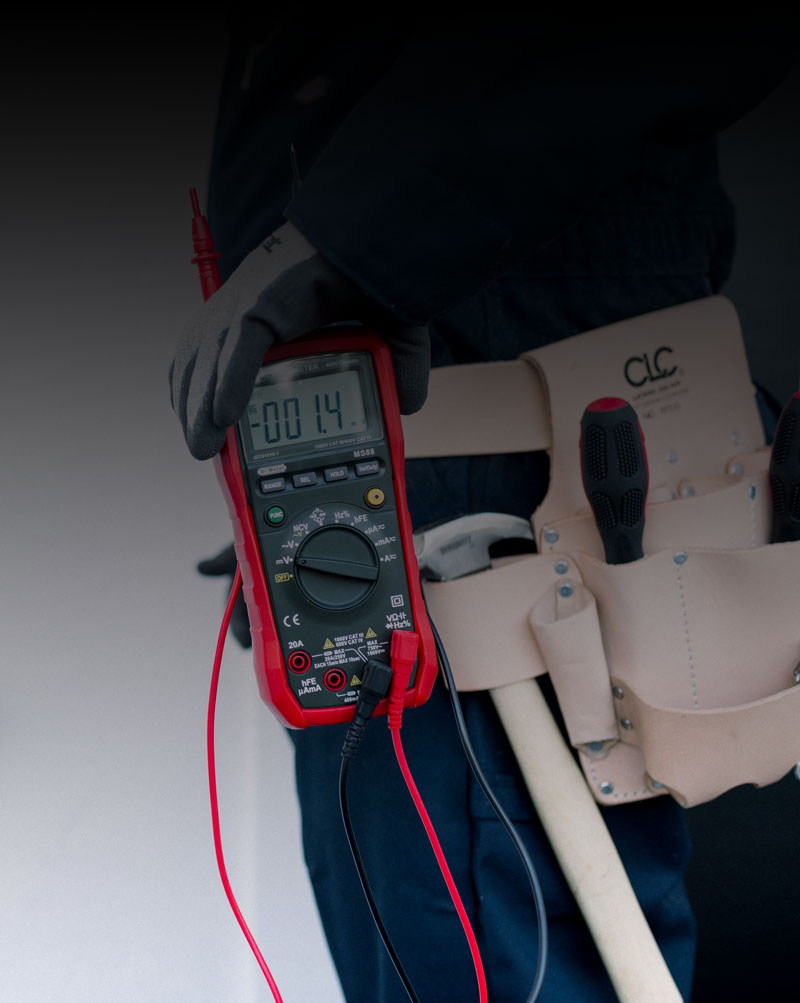 Professional, Super qualified, great problem solver.
As I was picking up my fan from the shelf I was told Home Depot had electricians available to hire. I asked the clerk if he would do that for me on his computer. As I was walking to the check out my phone rang and Allan from Quantum Power called and we set an appointment for the next day. I found out later he had just completed a job so was free. Allan showed up on time the next day and quietly but quickly attached the fan and gave me great directions on its use. I had to use a remote. When Allan came in he covered the floor with a cloth so that bringing in the ladder would not make a mess. There really was no mess to be made except for the packaging. We had a great conversation as he was installing the fan. It took about an hour to install and then he left. The job was perfect. While the days went on I found the light was not working so I texted Allan and he gave me suggestions and I also went to Home Depot to speak with the clerks. They told me there was nothing they could do cause it was probably a dud and I would have to return the fan and purchase another one. They were no help at all. I again contacted Allan and he said he would come by on Monday. On time again he came and checked things out and he found I had turned the light down too low and it automatically shuts off. He then showed me what to do. Suddenly there was no problem. Allan is a very knowledgeable and kind electrician who is very good at problem solving. He was willing to check the fans wiring but started with the remote first and figured out the problem quickly. I am very thankful I hired Quantum Power but especially Allan Lasnier.
Great Workmanship.
Allan was an excellent electrician who arrived when he said he would and performed the work in a very professional manner. Excellent person and I would strongly recommend him to anyone.
Highly Efficient and Professional
The electrician Allan was incredibly prompt, friendly and knowledgable. With over 20 years of experience I felt confident with his work. He assembled my new ceiling fan and took apart the old lighting unit and box, and made sure the new fan was securely fixed in. I live in an older apartment and he did it with ease. Super friendly gentleman as well.
A solid and dependable electrician!
The electrician who installed our bathroom fan was great. He explained everything that was needed and took care to keep the bathroom free of any construction debris. He also planned the installation so that there would be minimal damage to the walls and floor. We would definitely recommend him to anyone in need of electrical work done. Thanks Allan!
Ceiling Fan Installation
We had Allan from Quantum Power Inc install two ceiling fans in our home. He was very professional. Let us know things as he was doing them. Answer any questions and did a excellent job. Gave us a quote and actually was a little less as the job was done sooner. Would recommend Allan at Quantum Power Inc and would hire him again when needed.
Great Electrician
Allan did a great job in every way. Provided an accurate estimate for the job and arrived as scheduled. Completed the work in a timely manner and ensured we had the information if a follow up was required.
Looks great!
Al was friendly, thorough, asked lots of questions along the way and made sure it was done just how I wanted it. Would highly recommend.
Allan from Quantum Power
Excellent knowledge and workmanship. He pays attention to detail for the customer. Dependable, reliable, and skilled, Allan does everything he can so that his clients are happy and satisfied. We were very pleased with the rates he quoted and charged, and very pleased with the home electrical work he did for us.
Highly recommend Quantum Power Inc.!
Allan with Quantum Power Inc. was super professional, quick, efficient and friendly! He came and did the work, even though we had no power, and lent us his generator to run our fridge while he was working. Will definitely use him again!
Great job of difficult installation.
We bought a new under cabinet range hood to replace our old one and thought the installation would be simple as the ducts were the same size. Turns out the old installation was fudged, so new duct work to avoid studs was needed. Allan Lasnier of Quantum Power Inc. did an exceptional installation job.
Quantum Power Inc.
Your local Vernon electricians.
Address
2102 14th Street
​Vernon, BC V1T 3T7