Kitchen Renovation
In this kitchen renovation we used recessed LED lighting laid out to ensure even light levels.
The recessed lights are switched from two locations and controlled by a dimming switch.
The under-cabinet lighting is colour matched to the recessed lights to add consistency in the overall appearance of the room.
This is one of my favourite kitchens because of it's classic function and form. The modern look is backed up by the prep,cook, serve and clean-up in a "round the clock" use of counter space.

Recessed LED Lighting
Under-Cabinet Lighting

Recessed & Under Cabinet Lighting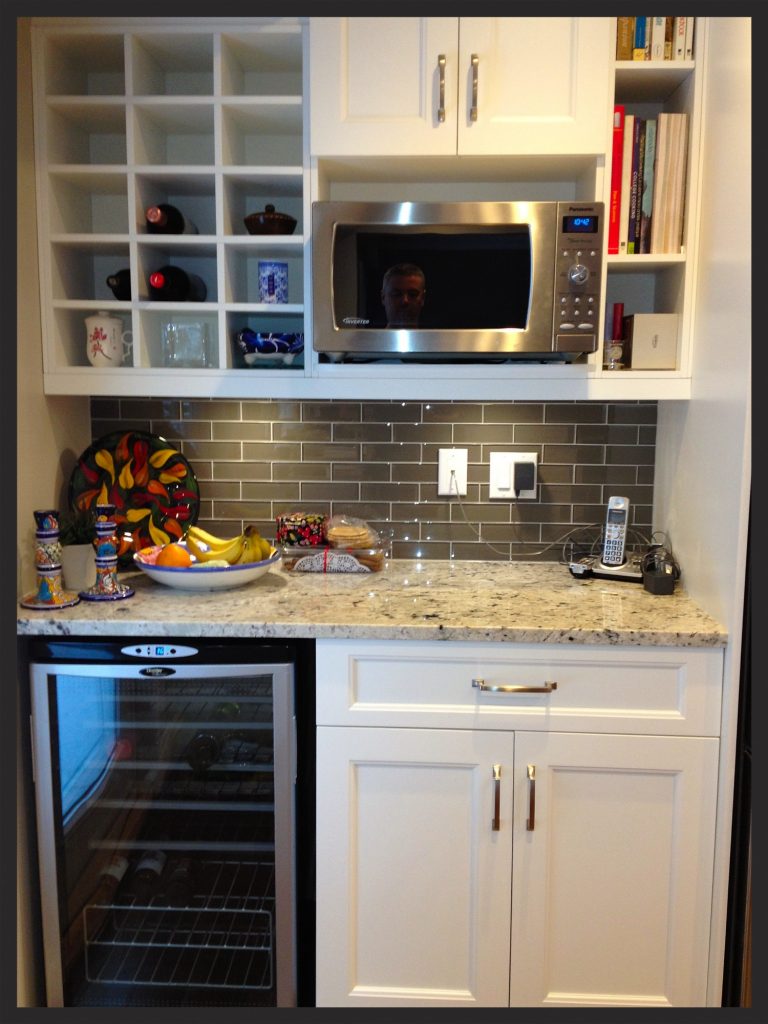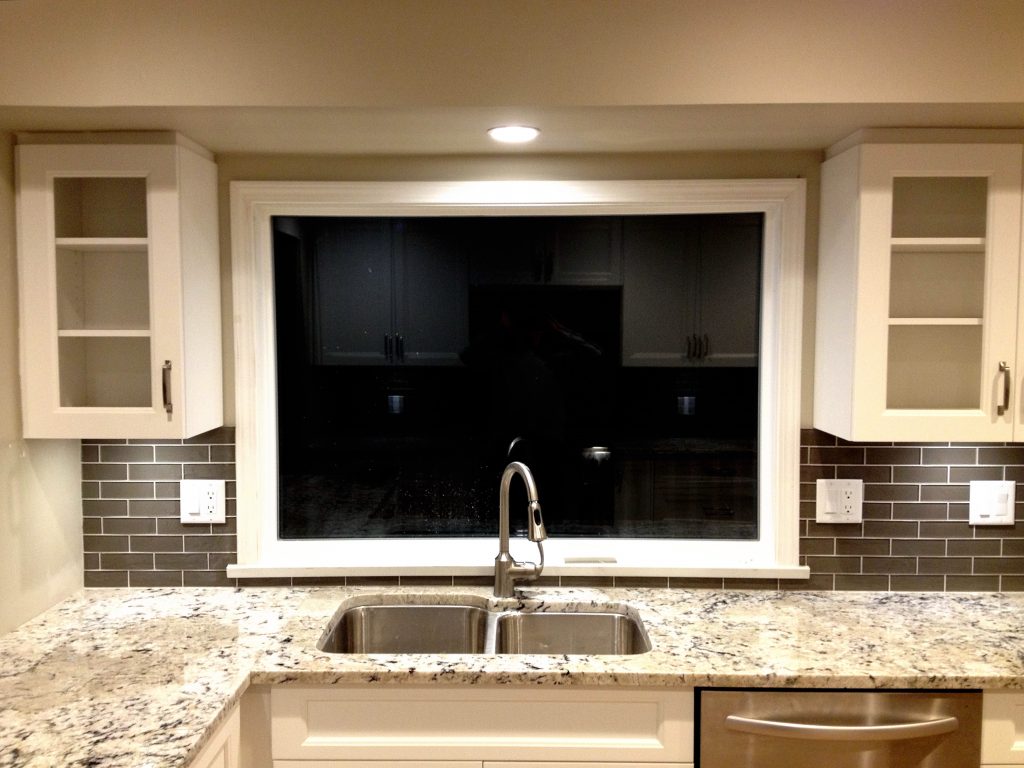 Both the exterior and interior lighting is designed to produce a warm inviting feeling while utilizing energy efficient lighting.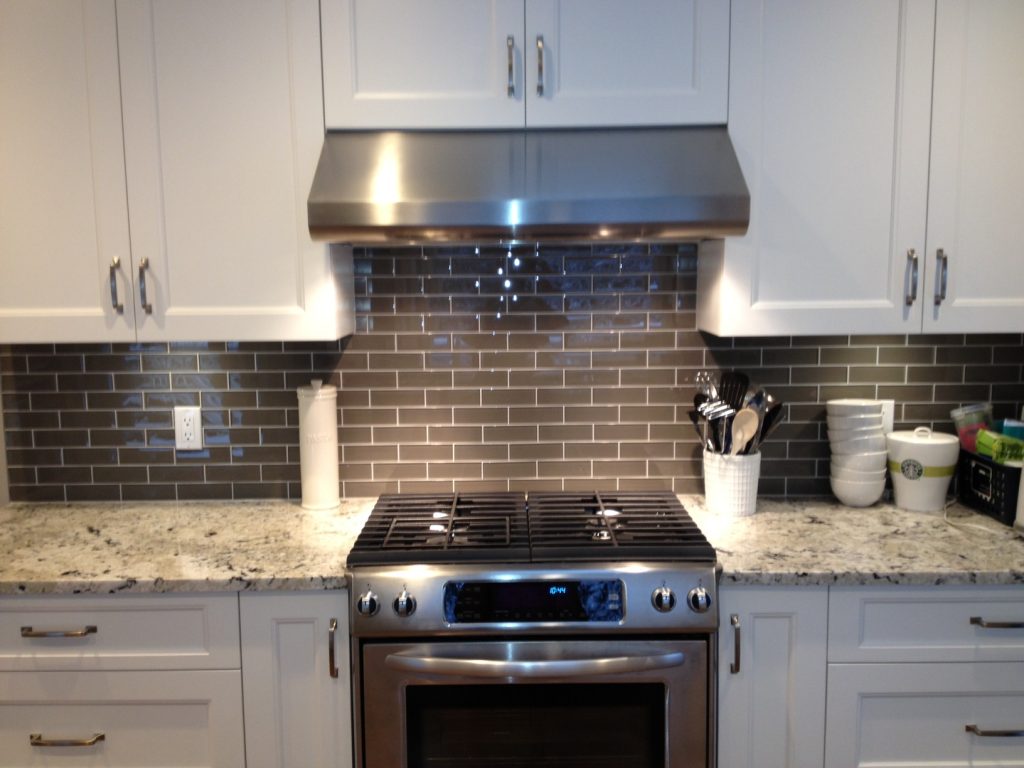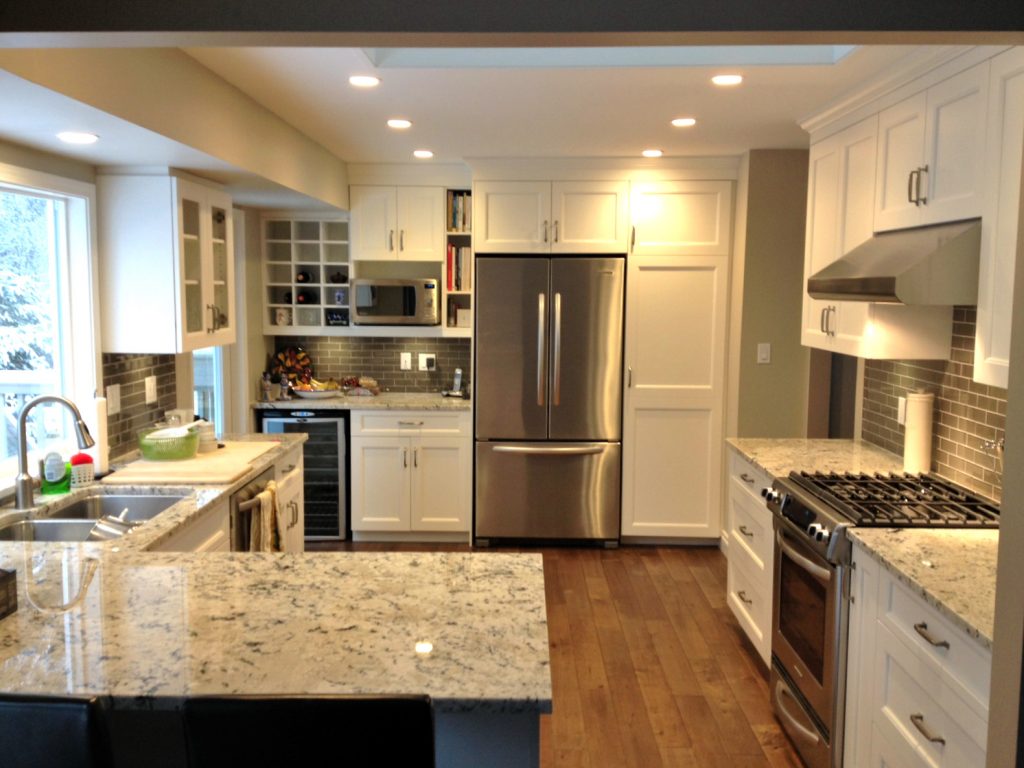 A Contemporary Country Home
A tribute to the owners, this is a stunning example of a contemporary country home.

Exterior Lighting
Interior Lighting

Exterior & Interior Lighting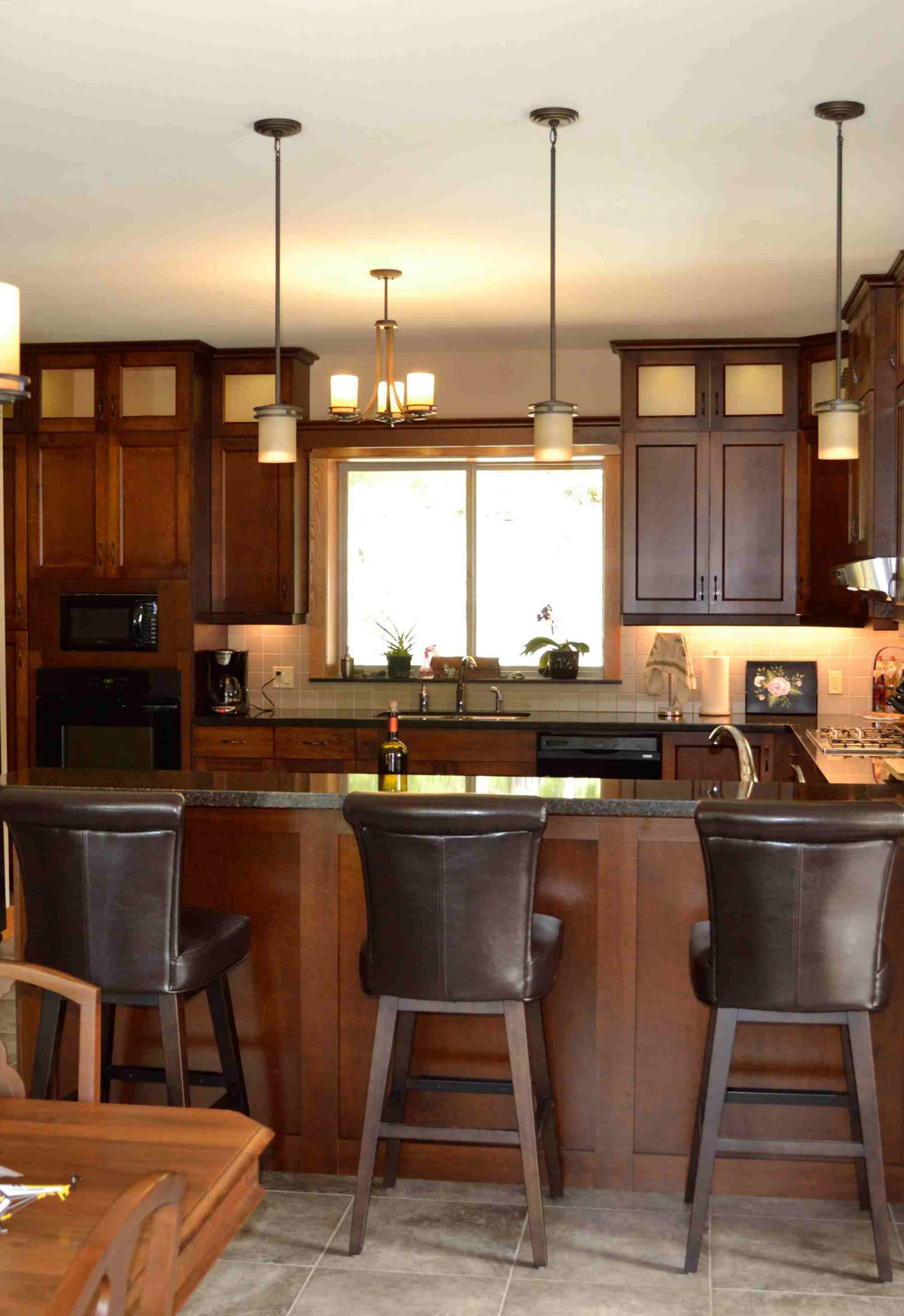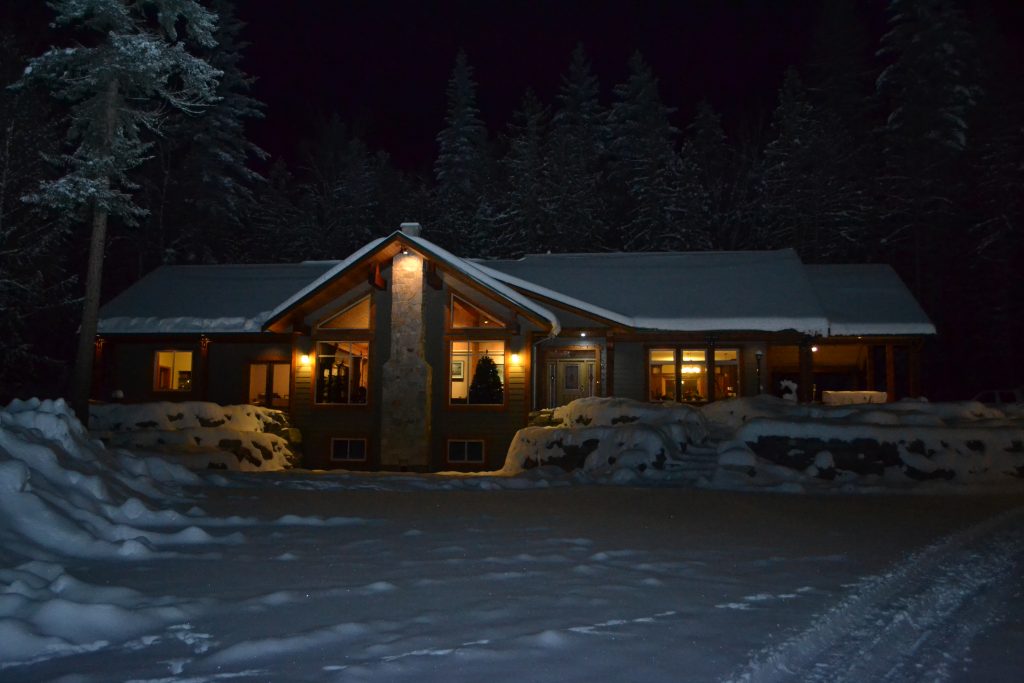 Both the exterior and interior lighting is designed to produce a warm inviting feeling while utilizing energy efficient lighting.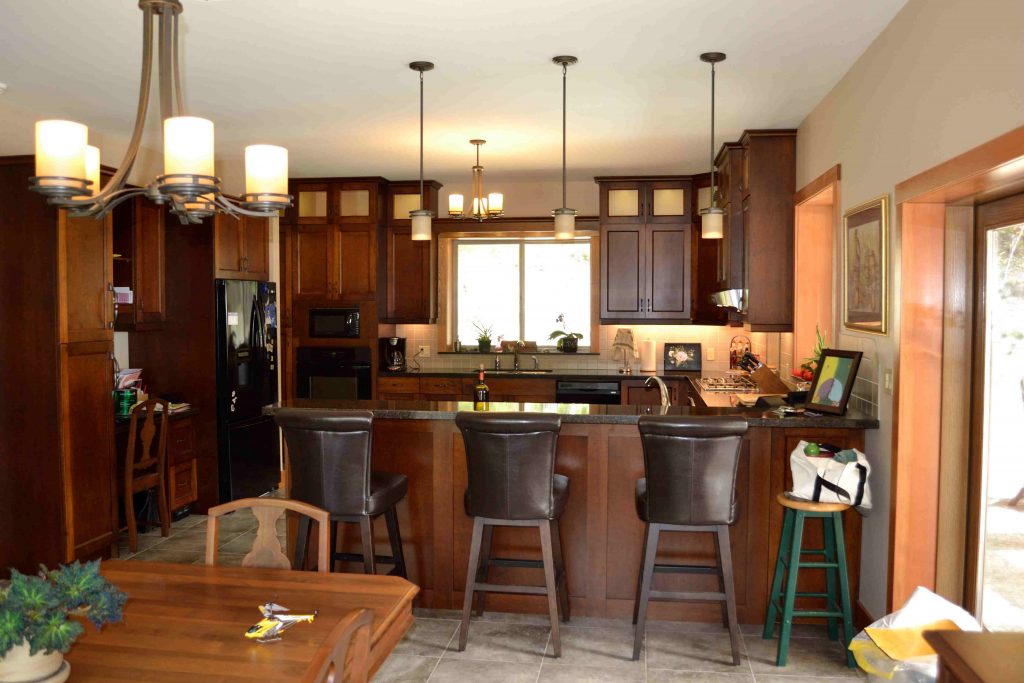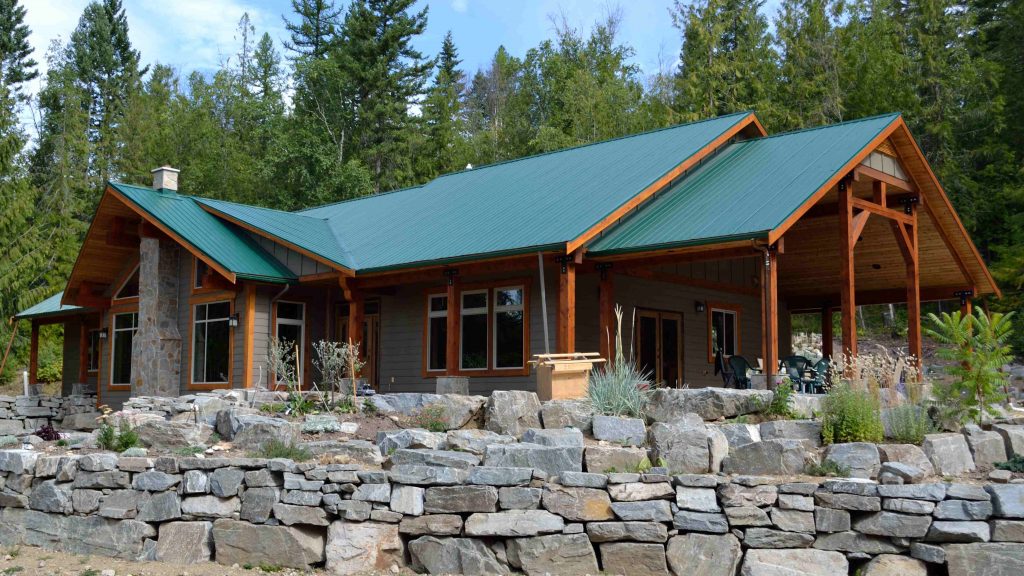 LED Lighting Upgrade
We were approached by Hertz Equipment Rental to increase the light levels in the parking lot, refueling station and equipment yard. The goal was to ensure employees are working at safe light level as determined by WorkSafe BC.
The following is WorkSafe BC's Illumination Guideline G4.65 (1) (a) & (b) which states;
(a) 22 lux (2 fc) in areas of low activity, such as parking lots, building exteriors, outside areas and basement areas housing machinery, but which are not regular task areas;
(b) 54 lux (5 fc) in areas of high activity, such as frequently used walkways and building access and egress points.
For clarification; Lux = unit of illuminance, equal to one lumen per square meter.

Exterior Lighting
Automated Dusk to Dawn Operation
Manual Override Switch

Exterior LED Lighting Upgrade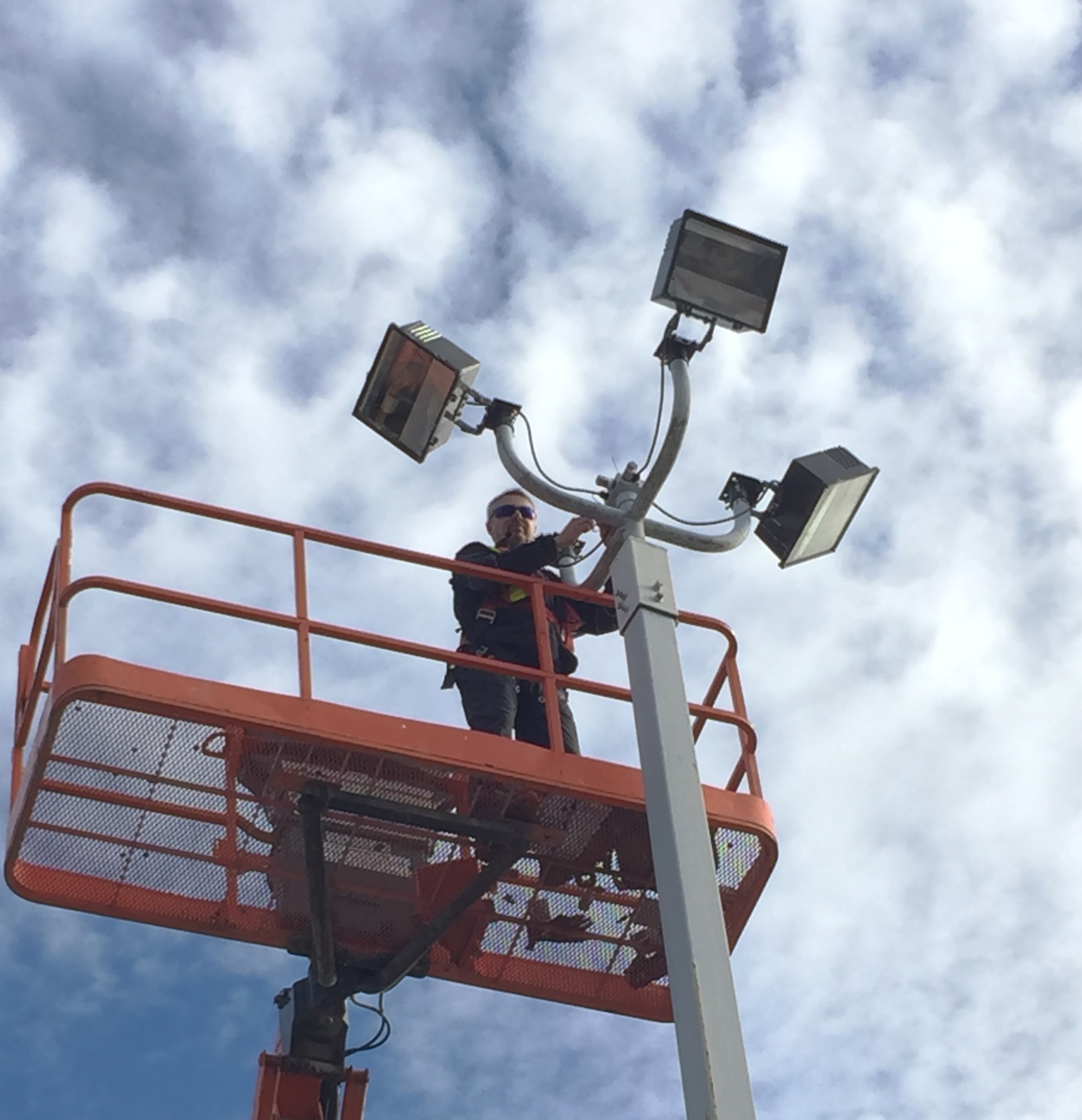 The existing light pole was topped with a quad mount system and the lights were conventional 400 watt metal-halide exterior fixtures. We removed the fixtures to determine the current condition of the electrical components, the light fixture housing, lens, seals and hardware. Electrically two were not working and the other fixture's lumen output was low indicating the end of their life. Other than some minor weathering the housing, lens, seals and hardware were in good condition making them a perfect candidate for a LED retro-fit upgrade.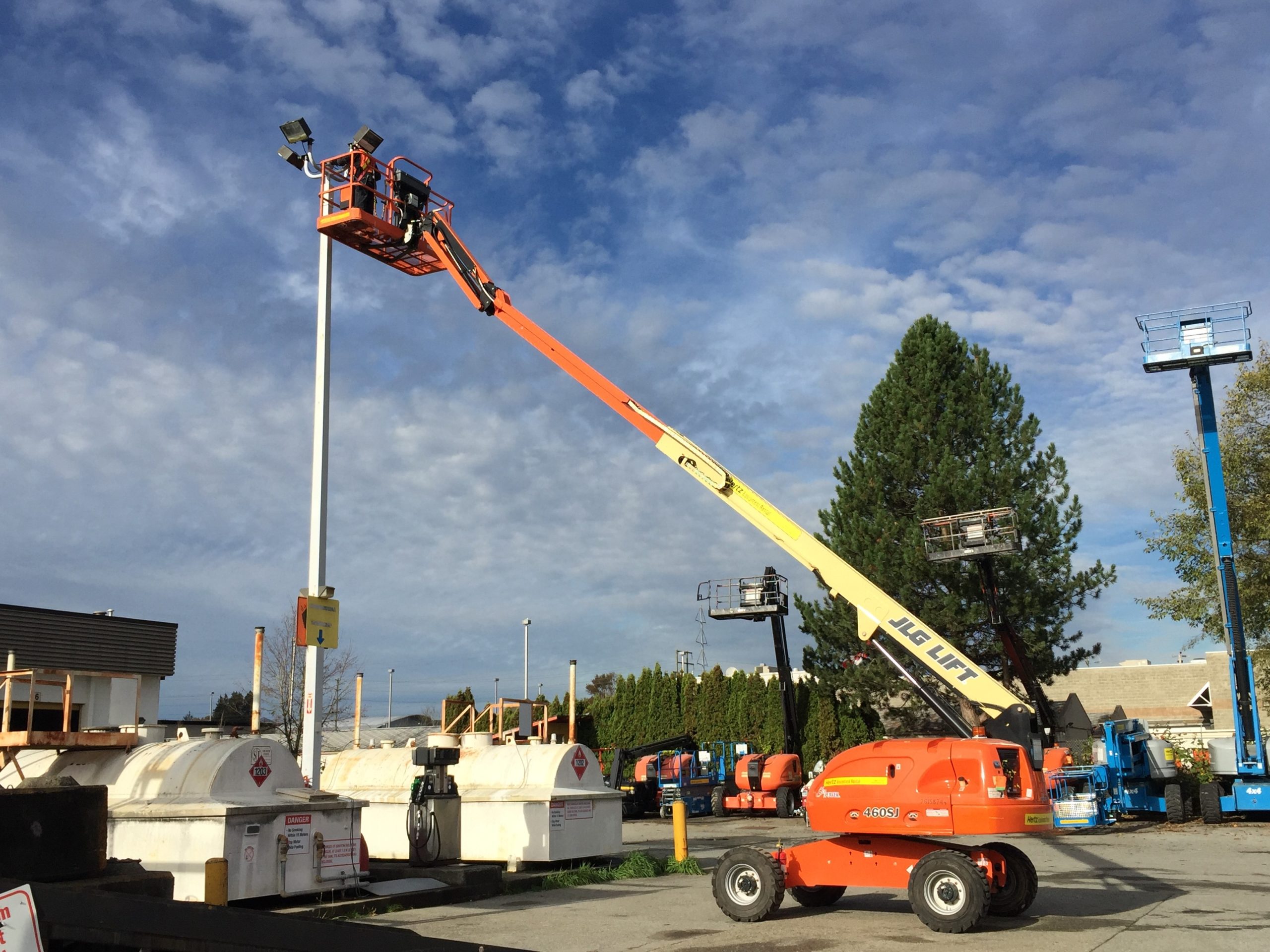 In the above picture you can see areas requiring different amounts of light. The fueling stations on the left is considered high activity and requires 54 lux. The equipment yard and parking lot in the background were consider low activity and requires 54 Lux. Lighting manufactures provide lumen output specifications and guidelines for the application you require.

The retro-fit LED upgrade is quite straight forward. The picture above is a 120 Volt – 115 Watt LED replacement bulb. It is designed to fit in the existing light housing and has several benefits over HID, florescent and incandescent lighting. A quick comparison shows a significant reduction in energy costs between a conventional metal halide light and a LED light fixture.
In addition to cost saving other benefits are;
50,000 hour lifetime = less maintenance
Front facing light output = higher lumen concentration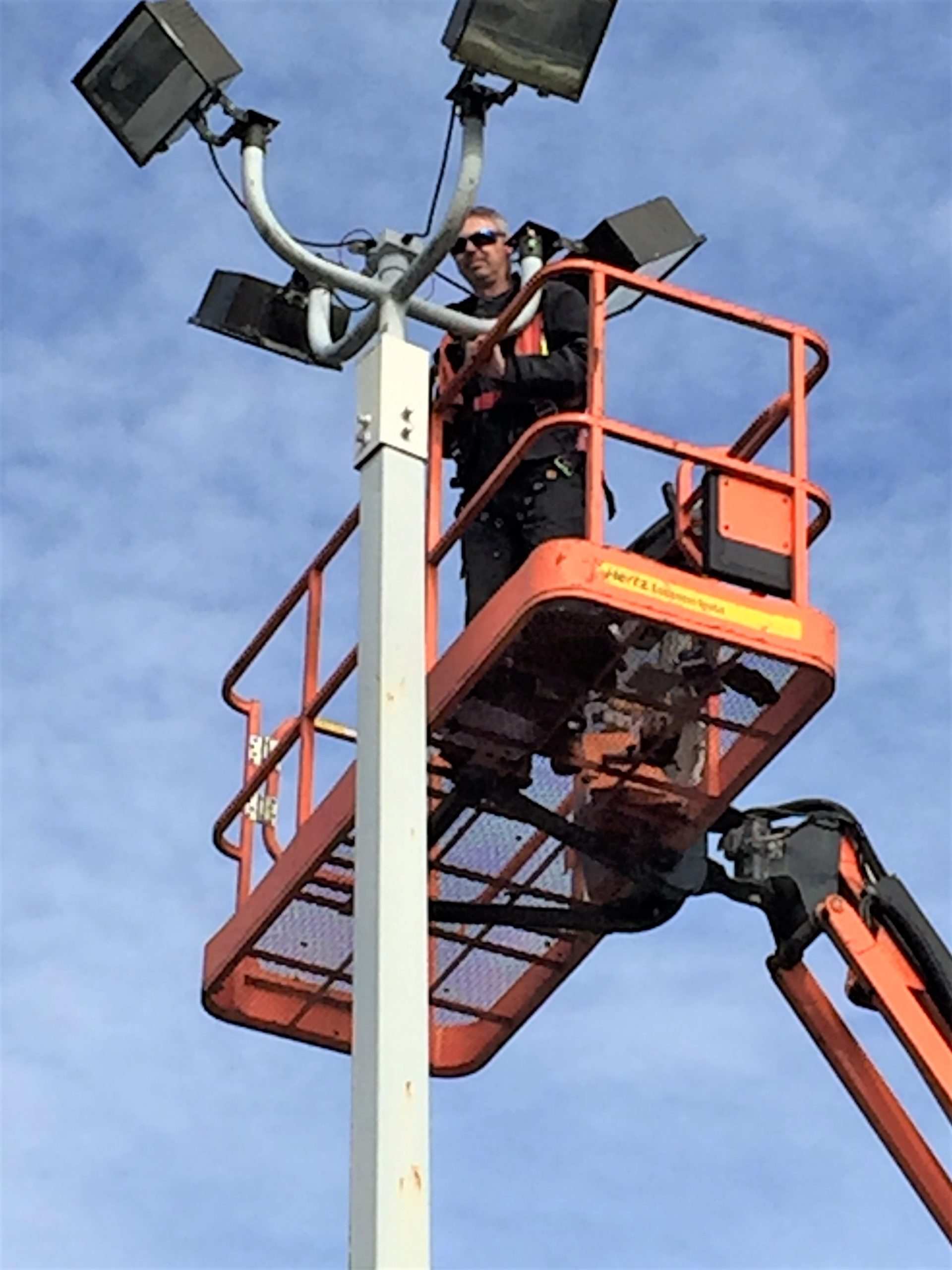 Next we removed the existing electrical components and cleaned the light fixture. During the LED upgrade we wired in a photocell for automated dusk to dawn operation to enhance security. A manual override switch was installed for employees arriving before dawn or working late. We proceeded to the final step of mounting, testing and energizing the light fixtures. Light levels at the fueling station, parking lot and equipment yard all exceeded WorkSafe BC's requirements.
Job well done.

Christmas Lights
Alan arrived at the agreed upon time. There were snags that he handled. For example, the new string of lights was in the wrong box from the store. So Alan went to Home Depot to exchange it. Then the string of lights did not work – another trip to Home Depot. He did not charge extra for this. I would highly recommend Alan and Quantum Power.
Kitchen pot lights
From fluorescent lights to pot lights, what a joy. Allan is knowledgeable, professional and nice working with him. He tried to put my lighting to exactly what I was looking for.
Install New Light Fixture
Allan was excellent from Quantum Power, definitely would recommend.
Lighting Install
Allan from Quantum Power did a great job at a fair price.