Electrical Services
Electrical Services Vernon BC.
Quantum Power has over 20 years of experience as a residential electrical services Vernon contractor in British Columbia.
We have completed hundreds of new homes, renovations and Vernon electrical services calls for developers, general contractors and home owners.
Call Us Today – 250-307-4003
Or Email Us – Click to Email
Here are some of the Vernon electrical services we offer: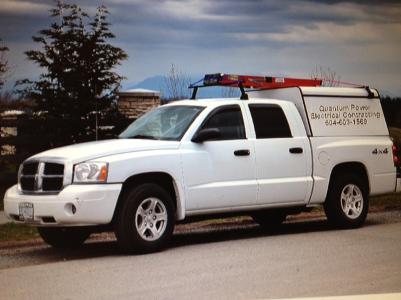 Residential Renovations
Commercial Renovations
Service Upgrades
Panel Upgrades
Electrical Remodeling
Suite Installations
Shops and Garages
Kitchen Renovations
Bathroom Renovations
Led Lighting Upgrades
AFCI Upgrades
GFCI Upgrades
Service Calls
Electrical Inspections
Ceiling Fan Installation

Residential Electrical Services Vernon BC
Residential Electrical Projects
Quantum Power Inc provides expert high quality electrical services at a fair price. Complete electrical renovations start with onsite meetings to determine the scope of work. Temporary power and lighting for construction is included in your estimate. Attention to detail through the rough-in stage will ensure the finishing touches turn out perfect. We can provide advice, create lighting designs and help you achieve the look you want for your home. With 20 years of residential experience we are confident in delivering a high quality electrical installation.
In addition to projects Quantum Power provides many electrical services. New appliance circuits, retro-fit lighting, hot tubs, power for air conditioning, exterior lighting and all aspects of electrical home improvements. We also do electrical inspections for home owners insurance needs and schedule service calls at your convenience.
Electrical renovations have there own set of challenges to meet. In addition to the inherently more difficult installation, keeping your home functional during the renovation is a priority. With advanced planning we can ensure your project runs smoothly and meets your families needs.
Call 250-307-4003

Commercial Electrical Services Vernon BC
Commercial Electrical Projects
Quantum Power's foundation of experience and knowledge came from commercial and light industrial training as an electrician working in Vancouver. We have completed hundreds of retail outlet stores, commercial office improvements, service upgrades, lighting upgrades and electrical equipment installations in all sectors of the industry.
Our electricians are experts on adding heating and air conditioning, power requirements for motor loads and lighting installations. If you require additional work stations in your office, telephone or internet cabling,, appliance connections, we can help. No matter what size project you have, we can take care of all your electrical needs.
Do you need quick response to service calls?
We have a fully stocked service vehicle to get you back up and running
Contact Us Online or Call 250-307-4003
Considerations for installing a new or upgraded main electrical service.
There are four significant factors to consider when upgrading your existing electrical system.
The amount of additional load you are adding.
The type of service that best meets your needs.
BC Hydro requirements.
Canadian Electrical Code requirements.
The most common size of electrical main service in single family residential applications is 240 Volts – 100 Amps. A service this size is adequate for an average sized single-family home. A 100-amp service will power your kitchen appliances, dryer, furnace, hot water tank, lighting, and receptacles.
Determining Service Size
The size of the service is determined by the load. If you are planning to install a hot tub, building a shop, adding an air conditioner or any other load you need to ensure the additional load does not exceed the rated ampacity of your service. As per Canadian Electrical Code Quantum Power calculates your home's electrical load to determine the required size. Based on the load calculations, our expert electricians in Vernon BC design, plan and install high quality electrical main services.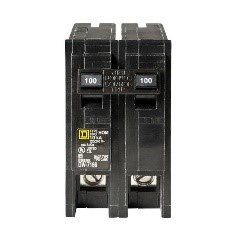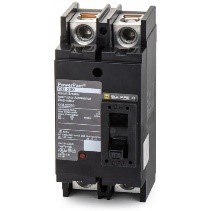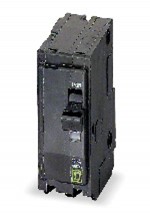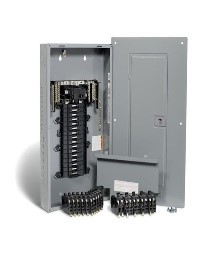 Service Type
The next step is to determine what type of service is best for your needs. Electrical services can be overhead, underground or a combination of both. The design of the service must meet BC Hydro's Service Connection Requirements which we will explore next.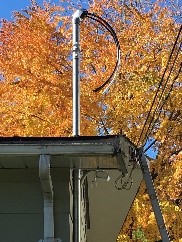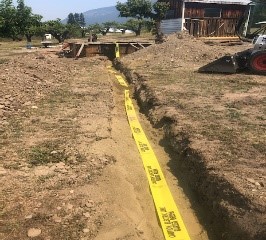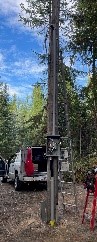 Overhead | Underground | Combination
BC Hydro Requirements
BC Hydro provides an online guide for overhead and underground services. Requirements ensure safe installation for both the homeowner and BC Hydro line technicians. Overhead requirements include height restrictions of incoming lines over highways, roadways, driveways, and pedestrian walkways. Trees or branches obstructing the path of the incoming wires must be trimmed back three meters by an arborist. This provides adequate clearance and is the homeowners responsibility. The service location must have a clear line of sight from the home to the BC Hydro pole providing power and installed on the wall facing the pole, or within one meter of the wall on either side of the wall facing the service pole. The maximum service length from BC Hydro's pole to the point of attachment at your home must not exceed thirty meters. These are five significant requirements for installation of an overhead service.
Underground services are equally challenging. Trenching must be one meter deep to avoid damage from frost heaving. The trench is then filled with six inches of sand. The cable is placed in the trench and covered with another six inches of sand. In the event the ground is subject to frost heaving the sand will provide a smooth barrier which can withstand lesser amounts of movement. Caution tape is placed on top of the second layer of sand to alert machine operators and workers digging around the direct buried cable. The trench is then backfilled to its original grade. Were the buried cable exits the ground at both ends a method of mechanical protection is provided by the contractor. This is usually in the form of rigid PVC pipe or similar material. More information on underground and overhead services is available at bchydro.com.
Canadian Electrical Code
The Canadian Electrical Code is an in-depth resource for building a new or upgraded main electrical service for power electricians. It is critical to meet or exceed all rules governing underground and overhead services. We strongly recommend the technical side of the Canadian Electrical Code is left to the electrical contractor; however, a basic knowledge of main service installations will add clarity for the homeowner. Peter Knight's Electrical Code Simplified is an excellent resource to aid in understanding the complex process. More information on residential electrical services can be found at Peter Knights web site, https://psknight.com.
Steps to Complete Installation – Homeowner
Contact and meet with local electrical contractors and provide details of the loads carried by the new service. Review the load calculation with the electrical contractor. We recommend estimates from three companies.
Initiate the connection request with BC Hydro online or by telephone. BC Hydro will then provide you the cost for connection for your new electrical service. Your BC Hydro account is directly charged for payment.
Prepare the site for installation. Trimming of trees and making adequate room for workers will help make installation progress smoothly. Expect removal of interior drywall or exterior siding. If this is something you feel confident with it can save you money.
Provide access for inspection. Technical Safety BC performs the inspection in areas where local city hall does not have an electrical department. Permit fees are usually paid by the electrical contractor to either your local city hall electrical department or Technical Safety B. C. Usually the permit fee is included in the estimate provided by the electrical contractor. Ask you electrical contractor for more information regarding permits.
Prepare to be without power on the day of connection. As each project has different requirements power could be off for an hour, or eight hours. Ask your electrical contractor so you are prepared for connection day.
As you can tell, a new electrical main service installation takes coordination between the homeowner, the electrical contractor, BC Hydro and Technical Safety BC. Ensure you are well prepared, and the process will develop efficiently.
As a premier electrical contractor in Vernon BC, our power electricians will quickly and efficiently design, plan, and build the perfect main electrical service to meet your needs. If you have question or need more information, please call 250-307-4003, or visit our contact page
Why Choose LED Lighting Installation for Your Residential or Commercial Space?
LED Lighting Installation: The Smart Choice for Your Home or Business
Discover the benefits of LED lighting installation for your residential or commercial space to see what a difference it can make!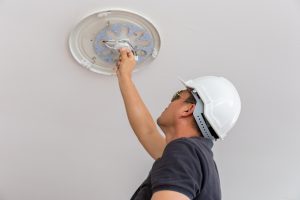 Are you considering LED lighting installation for your residential or commercial space but need more convincing? Many people don't realize that LED lights use up to 90% less energy than incandescent bulbs and last up to 25 times longer.
Switching to LED lighting is an investment that pays off in the short and long-term, freeing up precious resources that can be used elsewhere. If you're unfamiliar with the benefits, it's time to start paying attention.
Learning the benefits of LED lighting will show you why it's the best option for your commercial space.
Read on to learn more about why you should choose LED lighting installation.
Energy Efficiency
LED lights are not only a cost-effective lighting solution but also an energy-efficient one. Compared to traditional lighting options, LED lights are designed to convert more electrical energy into light.
Remember, LED bulbs last use 90% less energy and can last 15 times longer. This helps businesses save money on operations and maintenance. This is because LED lights require less power to produce the same amount of light, making them more efficient and economical.
These substantial energy savings can significantly reduce electricity bills. This is particularly true for commercial spaces that often require extensive lighting.
Moreover, LED lights have improved durability, contributing to their energy efficiency because they:
Last longer without compromising their performance
Need less frequent replacements
Provide ambient lighting
This longevity saves significant money on replacement costs. It also minimizes waste generated by disposing of worn-out bulbs.
A reputable local contractor can help you better understand how you can continue to improve energy efficiency overall.
Cost Savings
The fact is that LED lights have a slightly higher upfront cost than traditional lighting options. However, their long-term cost savings far outweigh the initial investment.
One of the major factors contributing to cost savings is the extended lifespan of LED lights.
On average, LED lights can last up to 50,000 hours or more. In comparison, a traditional incandescent bulb lasts around 1,000 hours.
This means LED lights can provide illumination for years before needing a replacement. Rarely having to purchase and install new bulbs saves money. It also reduces the maintenance and labour costs associated with constantly changing bulbs.
LED lighting installations offer ongoing cost savings through reduced energy consumption. LED lights consume less power to produce the same amount of light as traditional lighting options. Ultimately, this leads to lower electricity bills.
The energy efficiency of LED lights is very beneficial for businesses that require high-intensity lighting for extended periods.
By upgrading to LED lighting, businesses can significantly decrease operational costs and allocate those savings to other operations.
Long-Lasting, Safer Lights
One of the key advantages of LED lighting installation is its long lifespan. As mentioned earlier, LED lights can provide illumination for 50,000 hours or more.
This extended lifespan eliminates the need for frequent bulb replacements. This makes LED lighting an attractive option for all commercial spaces.
Not only does this translate into significant cost savings over time, but it also has long-term benefits like:
Gives hassle-free lighting
Fewer interruptions
Provides creative lighting options
Lowers stress
Helps with employee productivity
Much cooler
More resistant to breakage
Since LED lights are cooler, there is less risk of combustion or burns.
Enhanced Ambience
LED lighting installation offers unmatched ambience enhancement in your commercial space. LED lights are available in a wide range of:
Colours
Sizes
Shapes
Dimming options
Brightness levels
This allows you to customize your lighting according to your preferences.
You can create a warm and cozy atmosphere in your office or a bright, energetic space. LED lights are perfect for creating a vibrant setting in a retail store.
Moreover, LED lights can be tailored to meet your specific lighting needs.
LED lights can be dimmed or brightened to achieve the perfect lighting intensity for any occasion. With smart lighting systems and accessories, you can easily control and adjust your LED lights' colour, temperature, and brightness.
LED lights can suit your mood or activity. LED lights offer incredible flexibility in creating the desired atmosphere in your space by having:
Amber tones
Daylight-like hues
Cooler tones
Multiple tones
Brighter tones
Custom tones
Moreover, LED lights have excellent colour rendering capabilities. This allows them to accurately represent colours and textures.
Colour rendering is important in commercial settings like retail stores or art galleries. This is because the true and vibrant representation of products or artwork in these settings is crucial.
Finally, LED lighting enhances the visual appeal of objects and spaces. This makes them more dynamic, visually appealing, and true to life.
Eco-Friendly Lighting
In an era of increasing environmental awareness, LED lighting installation is a sustainability beacon.
Unlike traditional lights, LED lights are free from harmful substances like mercury. This makes them both safer for the environment and human health.
Mercury is a highly toxic substance that can contaminate water and soil. It poses a significant risk to ecosystems and living organisms. By choosing LED lights, you contribute to:
A cleaner environment
The safety of your employees
Better health and well-being
Consuming less energy
Lowering carbon dioxide emissions
Creating a green business
A sustainable future
Helping slow climate change
Improve your community
LED lighting is ideal for businesses that value sustainability and eco-friendliness.
By investing in LED lights, you align yourself with environmental conservation measures. You'll do this while enjoying the benefits of long-lasting and visually stunning lighting.
Consider LED Lighting Installation for Your Business
LED lighting installation is undoubtedly the smart choice for both residential and commercial spaces.
Don't miss out on experiencing the many benefits of LED lighting installation. Upgrade your space to energy-efficient lighting today. You can turn to Quantum Power for expert Vernon electrical services guidance and reliable LED lighting solutions to meet your needs.
We provide electrical services to the Vernon, B.C., area, and have been in business since 1998. Our services include commercial electrical projects that involve lighting upgrades and other electrical equipment installations.
We also offer various other Vernon electrical services like residential renovations, service upgrades, and panel upgrades.
Make the smart choice and enjoy the transformation LED lighting can bring to your business. Contact us today to get started!

Electrical Services Vernon BC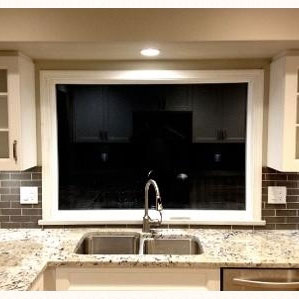 Light Fixture
A light directly over the sink was added to ensure a bright work space.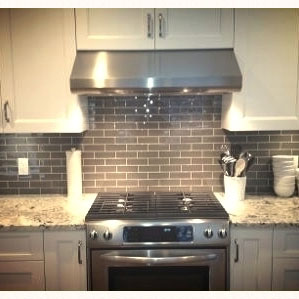 Kitchen Lighting
The under-cabinet lighting is colour matched to the recessed lights to add consistency in the overall appearance of the room.